Posted by:
Drago
I recently read Francesc's
article about whether Gerard Deulofeu is ready for first team action
. That made me realise it has come a point where all talented La Masia graduates face their moment of truth. To develop further, they need to play in the first team. However, first team spots must be earnt and the player must contribute when given a chance. Some make it. Some don't.
The challenge faced by a talented young Barcelona player can best be highlighted by the fact that Gerard Pique, Cesc Fabregas and Jordi Alba left as youngsters and had to be expensively bought back as first teamers. In fact, there are plenty who say that the development of each of these players was accelerated by temporarily moving away from Camp Nou. Every talented youngster coming through the system needs to play in order to develop. However, he needs to play well if he is to continue to get playing time. Unfortunately, very few players progress in the manner that Lionel Messi did who quickly went from a very promising youngster to the best player in the team.
The player who best illustrates the difficulties facing a talented Barcelona junior is Bojan Krkic. Big things were expected of him right from the start. He was the youngest ever Barcelona player to make his La Liga debut. Although he had his moments, he was never able to completely establish himself. He looked like he may have towards the end of the 2009/10 season when he scored several vital goals in the run in towards our La Liga triumph.
However, the following season was his last with Barcelona as Pedro Rodriguez, another La Masia product, became an integral part of our M-V-P (Messi, Villa, Pedro) strikeforce. Bojan was sold with a buy back clause to Roma who then loaned him to Milan for this season. It would be a huge surprise if Bojan will return to Barcelona next season. Pedro, on the other hand, made a huge impact in his first two seasons in the first team culminating in him scoring the first goal in our 2011 Champions League Final win. However, he has struggled in the last two seasons due to injury and loss of form raising questions about his future.
It is a huge step from being a promising La Masia youngster to becoming a first team regular with Barcelona. If a young player truly wants to succeed at Barcelona, he must have total commitment and give absolutely everything to try to achieve his goals. One player who may look back and wonder if he did that is Giovani dos Santos. After a few years on the periphery of the first team he was sold to Tottenham Hotspur when he spent most of his time on loan at other clubs. He is currently playing for Mallorca. Two other young players who have left recently are Nolito (to Benfica) and Oriel Romeu (to Chelsea). It is a huge step from La Masia to the Barcelona first team. However, many who don't quite can still have good careers at other clubs so all is not lost if a player does not quite make the grade.
Of most relevance is which of the current young La Masia players in or on the fringe of the Barcelona first team squad are likely to succeed. Thiago Alcantara is well on the way to establishing himself as a regular in Barcelona's midfield. It will probably be a few seasons before he is in the top eleven but he is already getting plenty of good game time as a backup for Xavi, Iniesta and Cesc. Behind him, there is a plethera of talented young players looking to make their mark.
Martin Montoya has done very well and is being groomed as the replacement for Dani Alves as the starting right fullback. He has already played in a winning Copa Del Rey final last season and I expect to see him to make further progress this season. Christian Tello is challenging for starting role as a striker getting plenty of game time this season. He has speed and is a good finisher but needs to work on other aspects of his game if he is to truly make it. That being said, I am very pleased that he has just extended his contract. Hopefully, he can really establish himself in the next few seasons. The same can be said about Marc Bartra who is a very promising young central defender. He has done well in his limited appearances this seaon but injuries have limited his availability.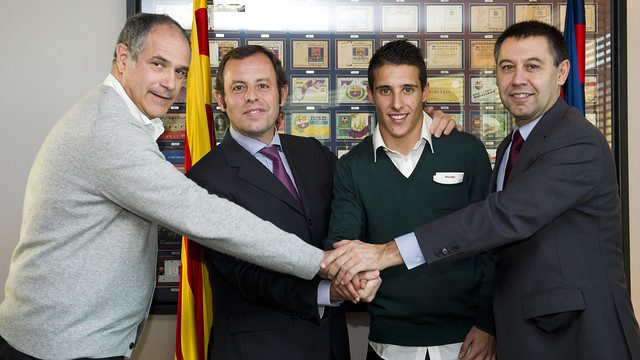 On the other hand, there are also some talented young players for whom a future at Barcelona is looking less promising.
Andreu Fontas has already been loaned out to Mallorca after a serious knee injury ended last season prematurely for this young central defender.

Jonathan

dos Santos has struggled to get much playing time this season as the competition for his midfield position is enormous. The fact that the club wanted to also loan him out at the beginning of the season is not a promising sign. Marc Muniesa is another good young defender but is currently out with a serious knee injury. There is never a good time to be injured but when one is trying to establish oneself that is just about the worst.
Isaac Cuenca is a talented young forward who has been out injured until now. He has now resumed training but has fallen considerably behind Tello in the forward pecking order. In my opinion, Cuenca does some things better but is not as good a finisher as Tello.There is speculation that Cuenca could be loaned out in the January transfer window. That could revive his career at Barcelona or be the beginning of its end.
As well as Deulofeu, Sergi Roberto and
Carles
Planas are young Barcelona B players who have made a few appearances in the first team this season. I thought they all did well enough to suggest we will see more of them in the future. How far they go remains to be seen.
To fully make the transition to being a first team regular, a young Barcelona player needs talent, to work hard and maybe to have some luck. However, Barcelona is certainly a club where he will get his opportunity to shine. Eleven La Masia graduates on the field together in our win at Levante is testament to that.